Hiroshi Matsuyama

Hiroshi Matsuyama

Name

Hiroshi Matsuyama

Kanji

マツヤマ・ヒロシ

Age

16

Voice Actor

Asari Ryouta

Family

(N/A)

Episode Appearance

9
Hiroshi is a first year student at Southern Cross high as well as a friend of Takuto's.
Appearance
Edit
Hiroshi is shown to be a slim teenager with tanned skin and short brown hair. Hiroshi is usually shown wearing a first year uniform.
Nothing is known about his history.
Skills and Abilities
Edit
Hiroshi has not shown any significant skills at anything other than catching Takuto's pitches in baseball.
Relationships
Edit
Takuto Tsunashi
Edit
Despite not knowing about Takuto being the Galatic Pretty Boy or knowing about cybodies Hiroshi is shown to be good friends with Takuto and is probably the only other male friend Takuto has besides Sugata.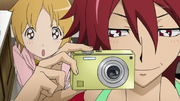 Ad blocker interference detected!
Wikia is a free-to-use site that makes money from advertising. We have a modified experience for viewers using ad blockers

Wikia is not accessible if you've made further modifications. Remove the custom ad blocker rule(s) and the page will load as expected.