Donkey Kong
300px
Donkey Konk

Name

Donkey Kong

Kanji

ゴウダ・テツヤ

Age

37

Voice Actor

Monkey

Family

The D.K. Krew

Glittering Crux Brigade Division

Filament

Alias

D.K.

Cybody

Weapons

Coconut Gun

First Game Appearance

1. Donkey Kong NES Edition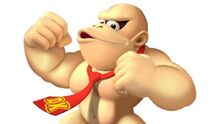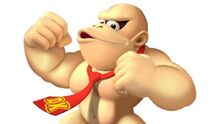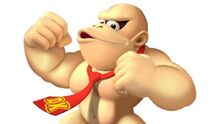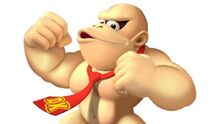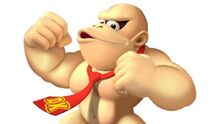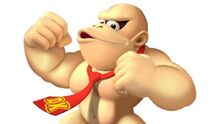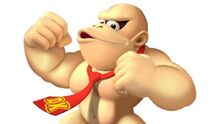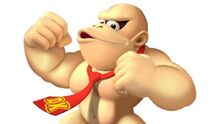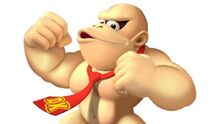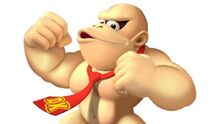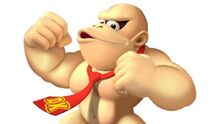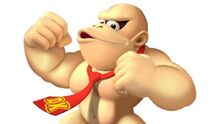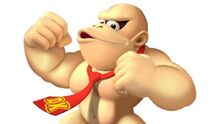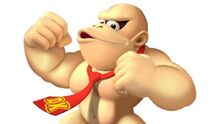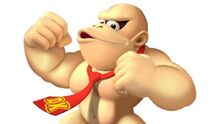 Donkey Kong (abbreviated as DK) is a video game character and icon who was introduced in the arcade classic game Donkey Kongas a villain in 1981. He was originally created by Shigeru Miyamotoalongside Mario. After his appearance in Donkey Kong, Nintendocreated the successors Donkey Kong Jr. and Donkey Kong 3. Following these popular titles, Nintendo dropped the franchise and made more games featuring Mario, the original protagonist. Then in the nineties Nintendo approached Rare and offered them the chance to revive the Donkey Kong franchise, they accepted and the result was Donkey Kong Country for the Super Nintendo Entertainment System.
Appearance
Edit
Donkey Kong is a large, muscular ape with a red tie that sports his initials. The name Donkey Kong is given to three characters in the Nintendo universe, including the two from the arcade games and the one from the Donkey Kong Country series. The Donkey Kong from arcades is supposedly Cranky Kong according to Rare, and Donkey Kong Jr. is Donkey Kong's father in the new titles. It seems a source has tried to claim that Donkey Kong Jr. is the current Donkey Kong, as Cranky Kong has referred to Donkey Kong as his son (only in Donkey Kong 64) and an employee at Rare has claimed that as far as they knew this was the case during their QNA on Rare Scribes, and to close your ears when anyone says otherwise. However this wasn't serious, definitive, or conclusive as the majority of the titles and the most recent titles including Super Smash Bros. Brawl, Donkey Kong Country Returns, and Tropical Freeze as well as an official magazine released by Prima Games states that DK is Cranky's grandson while Jr. is DK's father.
Donkey Kong has a wide variety of strong attacks though most require some setup. His back aerial does have some of the lowest lag of moves and is good for a safe attack. Some interesting facts is that with 3DS/ Wii U, Donkey kong's dash attack changes from a sliding kick to a roll like in the Country games. His specials are the following:
Neutral Special: Giant Punch
Side Special: Headbutt
Up Special: Spinning Kong
Down Special: Hand Slap
Final Smash: Konga Beat
In 1981, Nintendo's Shigeru Miyamoto was tasked with replacing thousands of unused RadarScope units with a new game. This was Nintendo's last chance in the gaming industry. Gunpei Yokoi assisted Miyamoto in development of the game, which would eventually end up becoming Donkey Kong. The game is best known for being a pioneering platforming game, introducing plot to video games, and featuring multiple levels, among various other things. While the game introduced Donkey Kong, it also was the first game that featured Mario. In Donkey Kong, the disgruntled ape was annoyed of being miss handled by his master Mario. So, he escaped from the carpenters' clutches, kidnapped his girlfriend Pauline, and took refuge on a series of girders at a construction site. Mario took chase and eventually managed to thwart Donkey Kong, afterwards keeping him locked up in a cage. Donkey Kong had a child, however, and he'd take his revenge and save his father in the next game. The name Donkey Kong was created when Shigeru Miyamoto was looking in a Japanese to English dictionary for a word that meant stubborn. He came across the word donkey, which grammatically doesn't make any sense, and went with Donkey Kong. Nintendo of America urged them to change the name, though NCL refused.
Donkey Kong did so phenomenally well, selling thousands upon thousands of units, that it generated enough money to warrant a sequel titled Donkey Kong Jr., another arcade title. This game took place directly after the original game and made Mario the enemy. Mario, who took Donkey Kong captive, is trying to make sure that Donkey Kong's son Donkey Kong Jr. (known as the father of the current Donkey Kong) doesn't cause any trouble. Donkey Kong Jr., however, manages to find various keys that were used to unlock Donkey Kong's cages. After being rescued, Donkey Kong gave Mario a beating and kicked him off of the stage. In this game's sequel, Donkey Kong 3, Mario wouldn't make an appearance, but Donkey Kong would resort to being the bad guy once more. In the game, he infiltrated a character named Stanley's greenhouse and Stanley must stop him using bug spray. The game wasn't critically acclaimed, which perhaps is due to Miyamoto not working on the title in any way shape or form.
After his arcade appearances, Donkey Kong went on to appear in a variety of remakes, but nothing spectacular or new. He made a cameo appearance in the Nintendo Entertainment System game Mike Tyson's Punch-Out!! as an audience member. There were also remakes of all three Donkey Kong arcade games for the NES as well as one that contained all three of them together in a game called Donkey Kong Classics. Overall, though, Donkey Kong went virtually unnoticed in the NES era, though this wouldn't be the case come the Super Nintendo Entertainment System.